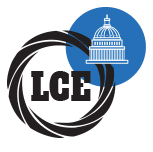 Lincoln Photo Show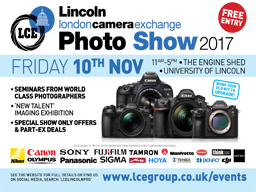 10/11/2017 11:00 - 17:00
WHERE:
The Engine Shed, University of Lincoln
Join us this November at our new home for the legendary Lincoln Photo Show

Bigger and better than before we're taking over Lincoln's Engine Shed for a day showcasing the best in products, advice, photography and more....

We will have huge interactive demo areas from the likes of Canon, Olympus, Nikon and Sony with live demonstrations of their latest kit. Get hands on under the guidance of top pro photographers. Along side the hardware compliment your kit with accessories from Manfrotto, Benro, Think Tank and more.....

There will be Drones from DJI, 4K demonstrations from Panasonic and two galleries featuring the works of local camera clubs and up and coming "new talent" from the University of Lincoln.....

We have a host of special guest speakers presenting free seminars, the running order is now confirmed, no need to book just head to the stage and take a seat....

11.45-12.30 Mike Inkley - A professional photographer for 30 years, I am an Olympus Ambassador Photographer and my company MJP Media supplies national newspapers wih specific Touring Car and LeMans coverage, with over 1,000 published articles in the national press.

I have shoot many sports including Superleague for Salford Red Devils, F1, WTCC,BTCC, SBK, BSB, WRC etc with images used by the Daily Mirror, Daily Record, The Sun and many other papers and publications including The Scotsman. In addition, I have shot for Subaru UK, MG, Team BMR, Laser Tools Racing, BTC Norlin, AmD and other racing teams. I spend a lot of time on location doing wildlife and nature work for clients.

My proudest work is with charities, including being the Royal British Legions Official Poppy Day Photographer in Manchester, work for the RAF Benevolent Fund and other charities.

12.45-13.30 Rob Pugh - The Art Of Wedding Photography - Hola! My name is Robert Pugh. There is nothing I love more than people plus capturing their authentic moments. I have been shooting images for the best part of my life, I can still remember shooting my first wedding for a friend and getting the buzz to become a full-time wedding photographer. I've covered assignments from the X-Factor to photographing the King of Qatar. I have a wide range of interests but they all centre around creating and communicating with people (I love to talk and some say I can talk for England). I'm proud to be known as a Sony Ambassador.

13.45-14.30 John Clements - Live Portrait Session -
A working professional photographer, John's client list has ranged from the corporate world to the Great British Public.

He was formerly Nikon UK's 'Advisor of Photography' for a number of years – a respected and privileged position – and has worked with a number of imaging companies as a consultant.

Author of over a dozen books, he also previously wrote widely for numerous photographic publications.

An experienced presenter, John's workshops and seminars excite and inspire people due to his concise and approachable style.

His events draw on his combined real world photography experiences to enthuse the beginner to the pro.

14.45-15.15 Jacob James - Travel Photography - Jacob James is a UK based internationally published travel and cultural documentary photographer. Jacob's work has been published in well known photography publications both in the UK and worldwide such as Digital Camera, Amateur Photographer, Tutti Fotografi and N-Photo. His work has also appeared in numerous exhibitions and books. Jacob has worked with a number of clients across Europe and Asia including the Austrian and Hungarian tourism boards and is available for assignment globally.

Jacob has worked with some of the biggest names in the photography world and is currently working as an ambassador for Panasonic UK, Manfrotto and X-Rite as a part of their Coloratti. He also has partnerships with brands such as Paramo, Eagle Creek and Phottix.

Jacob is also an active photo educator and keynote speaker. He has presented talks and seminars at some of the biggest photographic exhibitions and events in the world. He also runs workshops across the world teaching other photographers. Jacob is also a writer and regularly contributes photography tutorials, tips and travel writing to websites such as DigitalRev Learn, Manfrotto Imagine More Blog and many others.

15.30-16.15 Dave Newton - David Newton is a professional photographer and videographer who avoids specialising in any one area. As the former technical editor of EOS Magazine and Canon Professional Network, his knowledge of the Canon system is extensive. An active photo tutor, David often gives seminars for Canon at various camera shops and trade shows. He is also a SanDisk Extreme Team member, Manfrotto Ambassador and Koy Lab Ambassador."


As ever, there will be special show only offers and great part exchange deals available on the day......

For all the latest show news follow our feeds at......
Facebook @LCELincolnPro
Twitter @LCELincolnPro
Instagram @LCE_Lincoln
Using the hashtag #lincolnphotoshow

Entry is FREE and we open 11am - 5pm

Hope to see you there!