LCE Cookies
We use cookies to help give you the best experience on our site and allow us and third parties to tailor ads you see on this and other websites. By continuing you agree to our use of
cookies
.
ACCEPT AND CONTINUE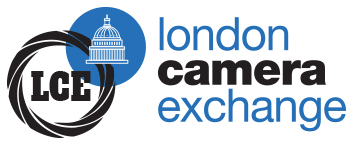 A Summer Of Festival Photography
10 festivals, 21 days of music, over 200 bands captured and 40,000+ images taken. This summer as a freelance music photographer was a busy one for me to say the least. From Thursday evening to Monday morning most weekends through June, July and August, you'd find me on a festival site somewhere in the UK working for either the event directly or a publication covering it. One moment I'd be getting burnt alive on one of the hottest days of the year, the next soaked through and wading through the mud as the UK's predictably unpredictable weather put me and my gear to the test. Festivals are a truly different world to anything else, each filled with a unique cast of characters in the crowd, exciting acts and amazing atmospheres to capture. A photographer's dream, and my favourite place to be.
In this article I'm going to talk you through shooting a typical festival for me, the gear I tend to use, and a few tips for those looking to shoot events themselves in the future…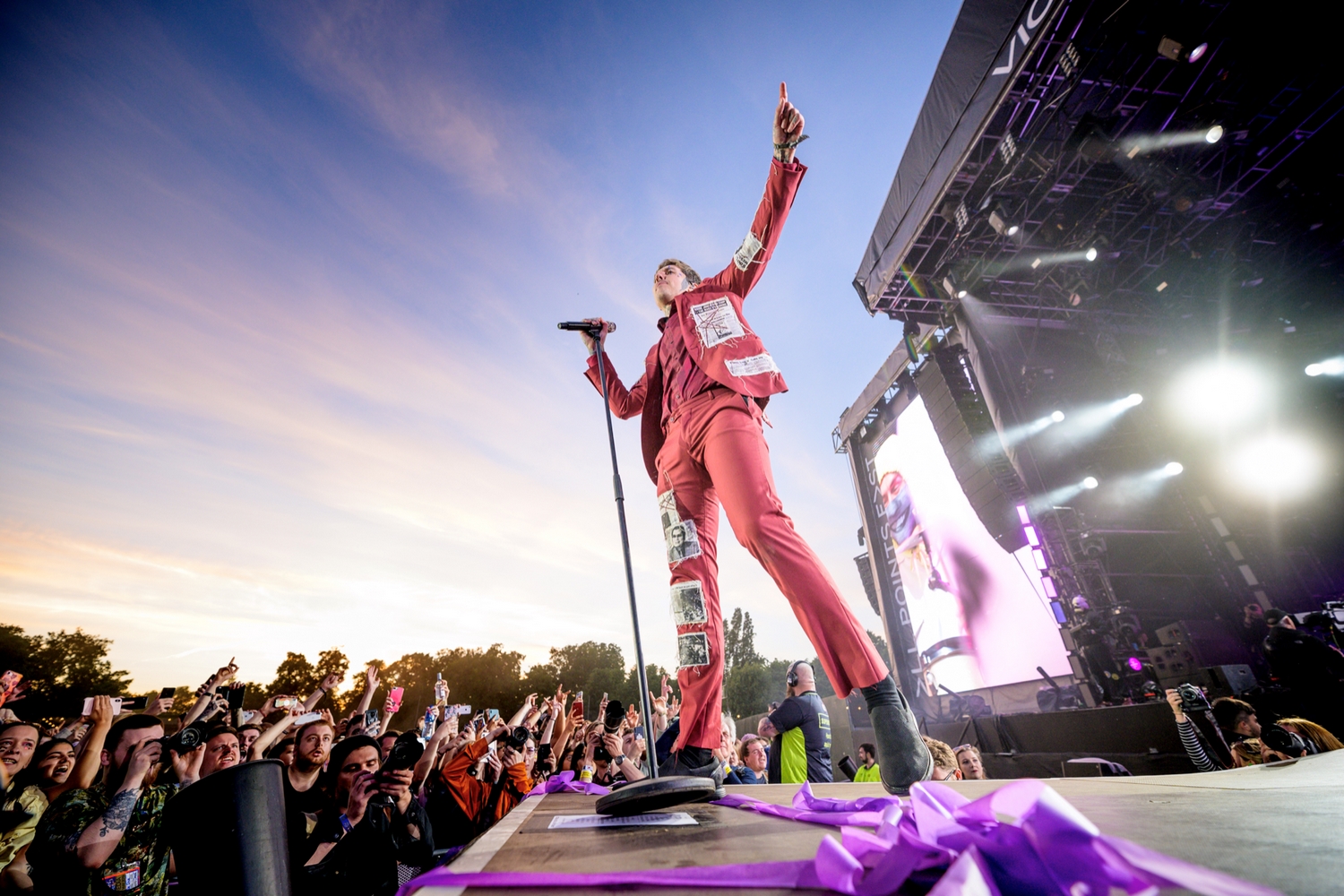 Before The Festival
The first step of photographing a festival is getting accreditation sorted. If shooting for the festival direct this is a simple process, if for a publication, then an application has to be made usually to its PR representative several months in advance. Whether this application is granted or not usually boils down to whether they deem the publication and the coverage offered by them in advance, during and after the festival, to be worthy of the access (especially as there are normally far more applications for passes than there are passes available). Assuming you were successful, and following the announcement of set times, it's then pretty handy to make a timetable of the artists you and the client want to cover during each day. I normally use a site to do this called Clash Finder , that while not always totally accurate due to time changes on the day, does give me a bit of a plan as to where I should be and when on the festival site.
Then, it's a case of charging and packing all of my equipment. I normally take two camera bodies, this year it was a Nikon D750 and Z6, as this allows me to switch between two lenses quickly. With only 3 songs access in the photopit (the space between the crowd barrier and the front of the stage) to take photos in most instances, this isn't a case of flaunting gear, but allowing me to vary my compositions for an interesting set of shots in the 10-15 mins I get with each band. Lens-wise this is normally a 70-200mm f/2.8 telephoto zoom and a 24-70mm f/2.8 zoom, the first for taller main stages where I need the reach, and the second for smaller tent stages and wider shots. I'll also normally chuck a 14-24mm lens or fisheye into my bag to give me the option for even more dramatic wide perspectives and sweeping crowd shots too.
While many festivals provide press tents, an area for photographers to sort their gear/edit and journalists to write reviews, they're not always guaranteed and don't always feature plenty of power points. As a result, I'll always take as many camera batteries as I can to a festival and would think nothing of carrying 3/4 spares along with a charger. The same is true of memory cards, the more storage space I have for files, the better, so I don't have to worry about filling all my cards mid-event or backing up quite as much, as I can just switch one out for another. If I'm planning to edit on-site all my adaptors, card readers, hard drives and a laptop come along too. A couple of waterproof camera covers are also an essential, irrelevant of the forecast. I've seen too many lenses of other photographers pack up focussing after a sudden torrential downpour to not have one close to hand at all times.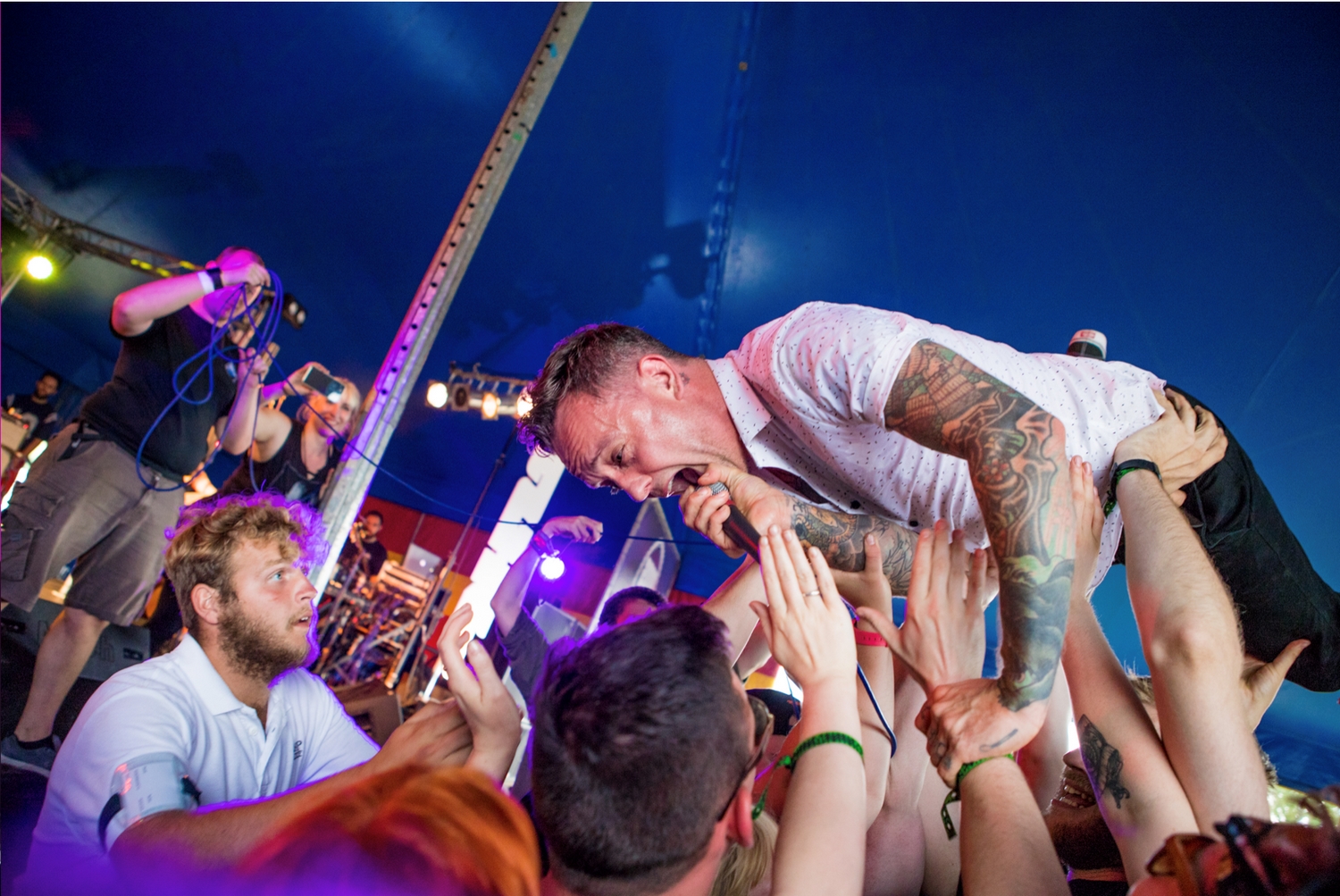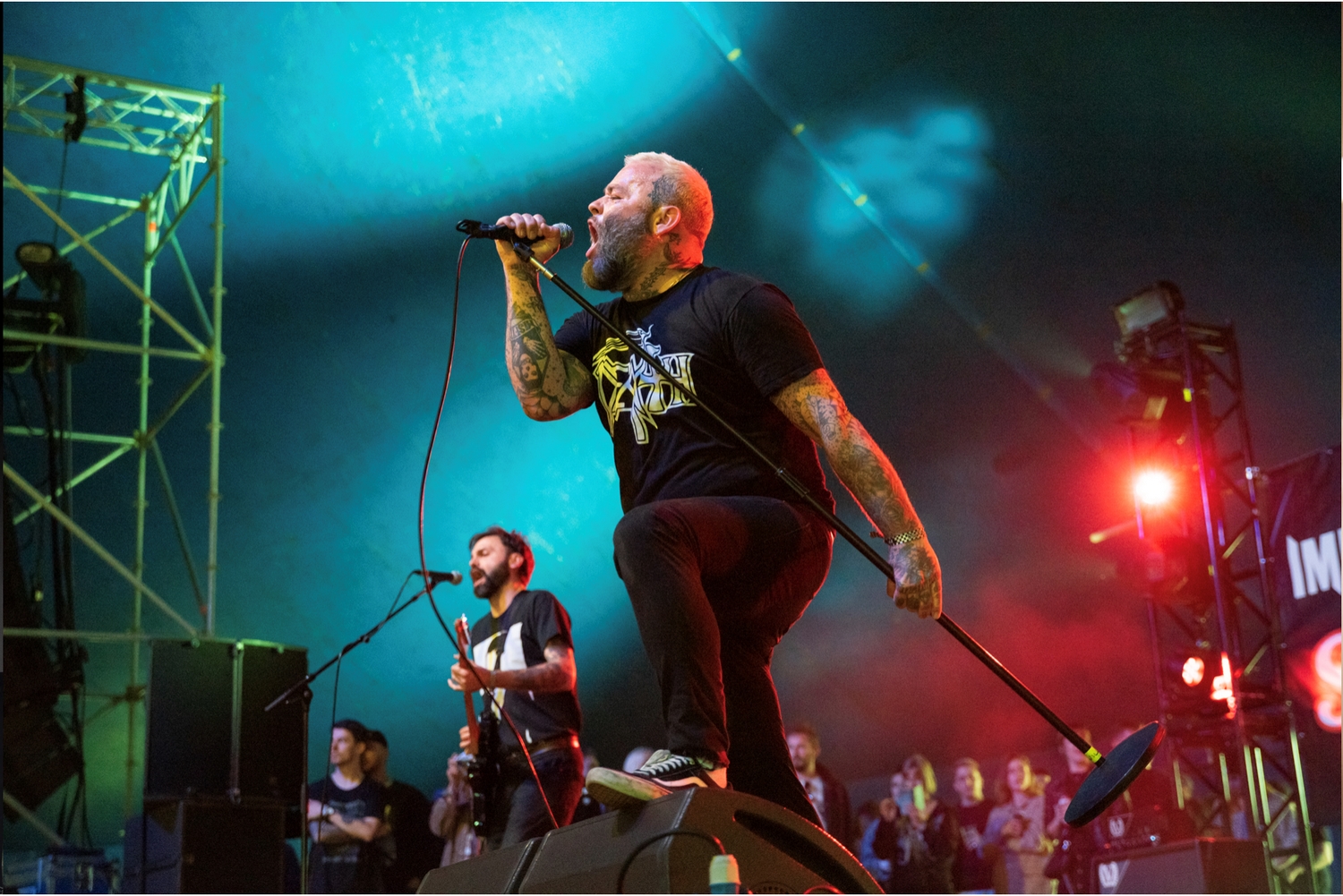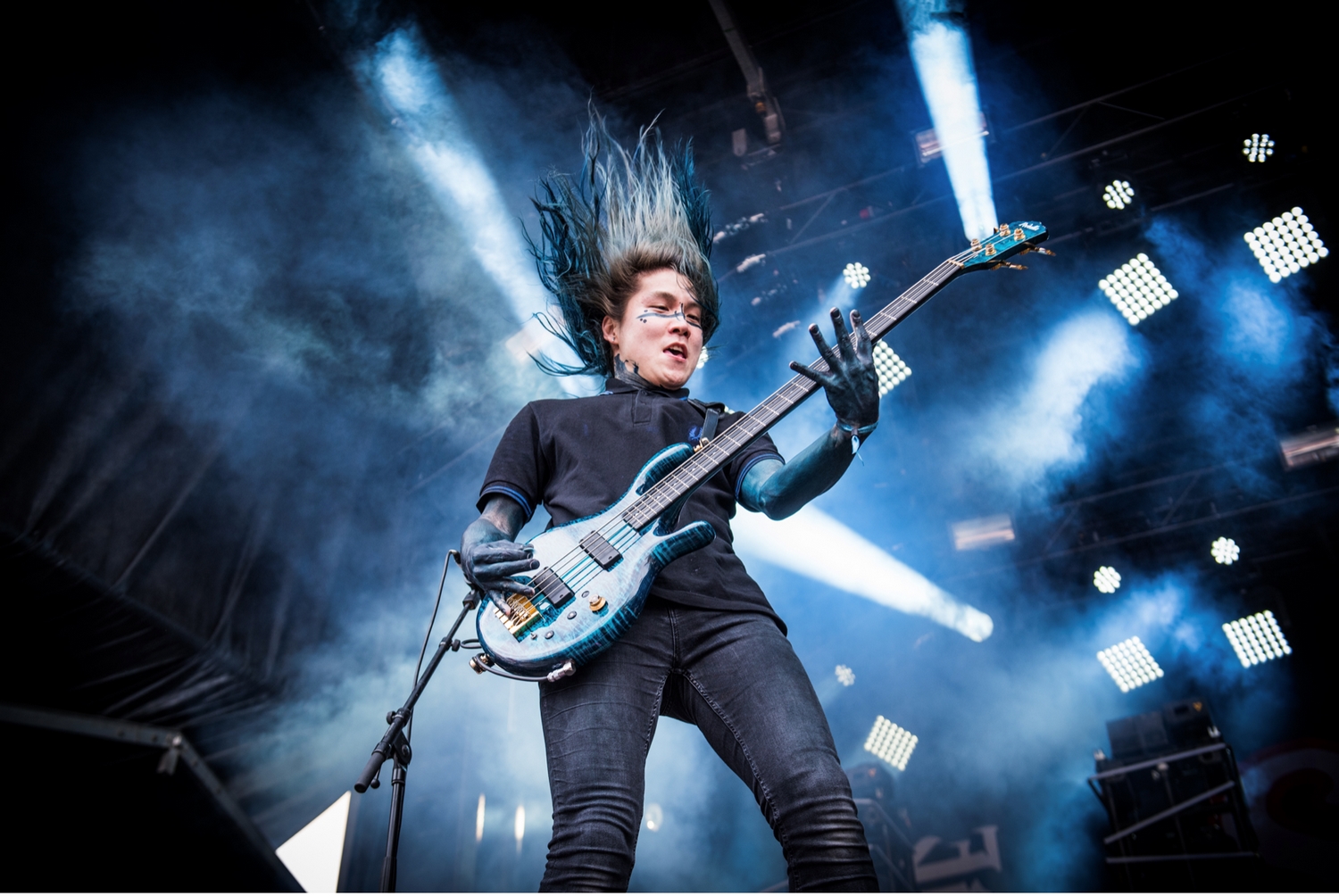 At The Festival
Most festivals begin by heading to a media box office and picking up a photo pass and sometimes a photographer's tabard. It's these items that will not only allow you past the security bag-checks with your gear but into the photo pits in front of the stage when shooting. Lose them at your peril.
Then, from when the music starts to when it finishes, normally 12am-11pm, it's a case of running from stage to stage to photograph the acts on my list, filling anytime between them with crowd portraits and atmosphere shots, and, if I'm lucky, perhaps a drink or something to eat.
For each band, I'll try to get a good variety of photos of all members, with compositions that include frame-filling closeups, wider 'in-action' shots that reveal a bit more context, and even wider whole stage ones. If allowed under the terms of my pass being granted, I may also try to take some images from the crowd after this time, often incorporating them into the scene for a sense of atmosphere. The thing I'm looking for most while shooting is 'moments'. It might be the bassist jumping in the air, it might be a guitarist getting down into the crowd and their response, it might be the vocalist swinging his microphone or pulling a face at me, but it's these moments, that will result in the most exciting shots. Part of capturing these often split-second actions is to try and be alert to what's happening across the stage so that you can respond to it (even when you're focussed up close on a different member), part of it is building the experience to anticipate what is about to happen from having seen similar things happen before or being familiar with an act, and part of it, is luck.
Settings-wise I'm normally shooting in manual mode, usually with my aperture wide open at f/2.8 unless it's an outside stage where I may be able to drop down to f/4-5.6, with a shutter speed of at least 1/200sec and the lowest ISO that will allow me to expose properly with the previous settings selected. When capturing an act in a tent this normally results in settings that look something like F/2.8: 1/250sec: ISO 1600, while outside it's not unusual (in the daytime at least) to be able to shoot with something like F/4: 1/400sec: ISO 400. Of course, all of this is heavily subject to change with every tent and every band on its stage having different lighting, and the light for outside stages changing as the sun goes in and out of cloud cover and day turns to night. This means that being able to respond quickly both to the action taking place on stage, and to changing light conditions is vitally important for striking shots, and shooting in a manner in which you can quickly and intuitively make setting changes with the camera to your eye without too much thought, is always the best approach.
Traditionally I've used single-shot focusing and refocussed for every image, but with autofocus tracking options getting better on cameras all the time, it's something I've started using on occasion a bit more. I'll generally shoot in a slow speed burst mode as I feel this gives me a good level of control so that I can capture just one image when the shutter is pressed, or hold it slightly longer for a few in quick succession if something interesting is happening. If I see someone climb something they may jump-off, I'll switch quickly to a high-speed burst mode ready for the action, but will avoid this mode when shooting normally to limit the amount of duplicate looking shots I take and conserve my storage space.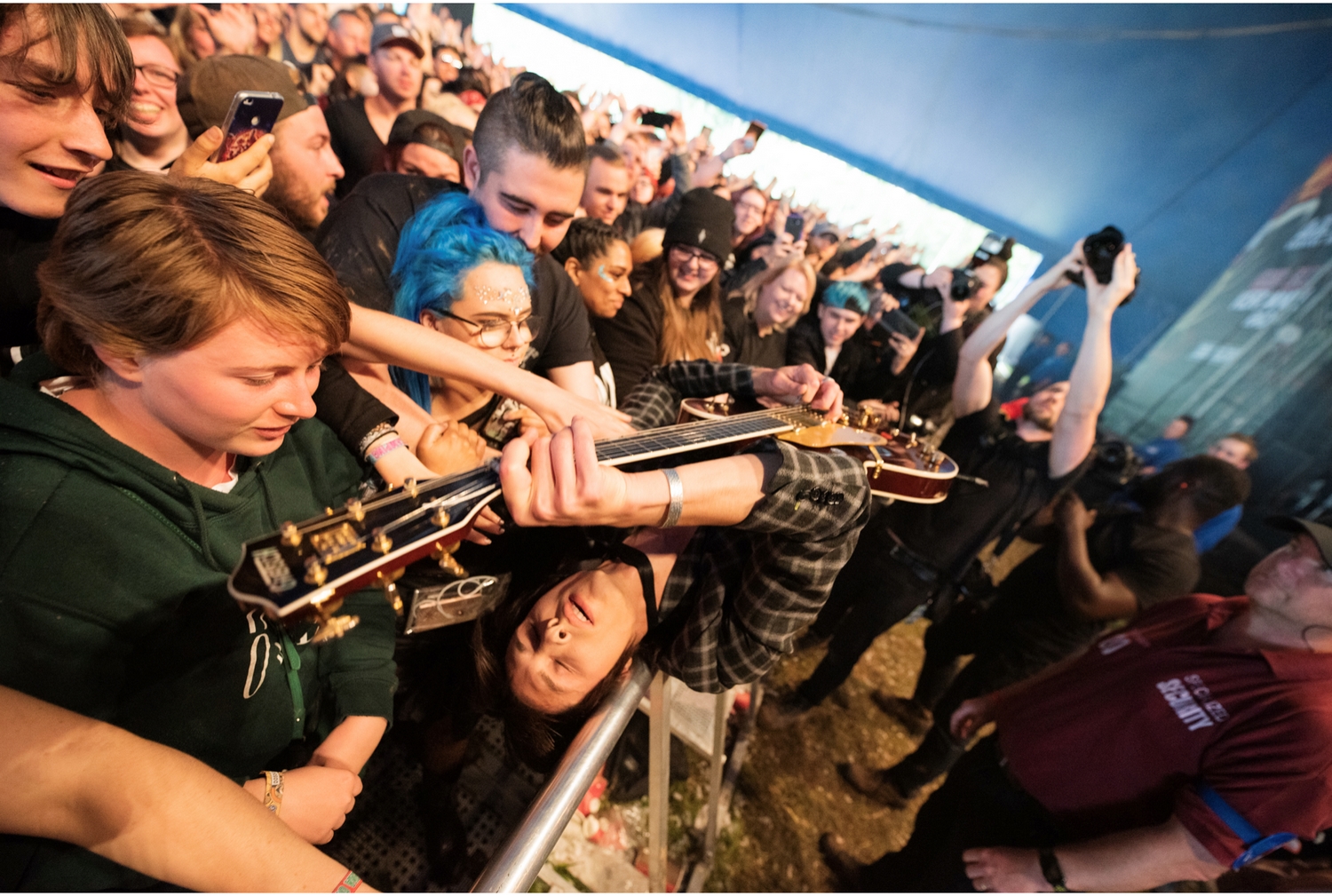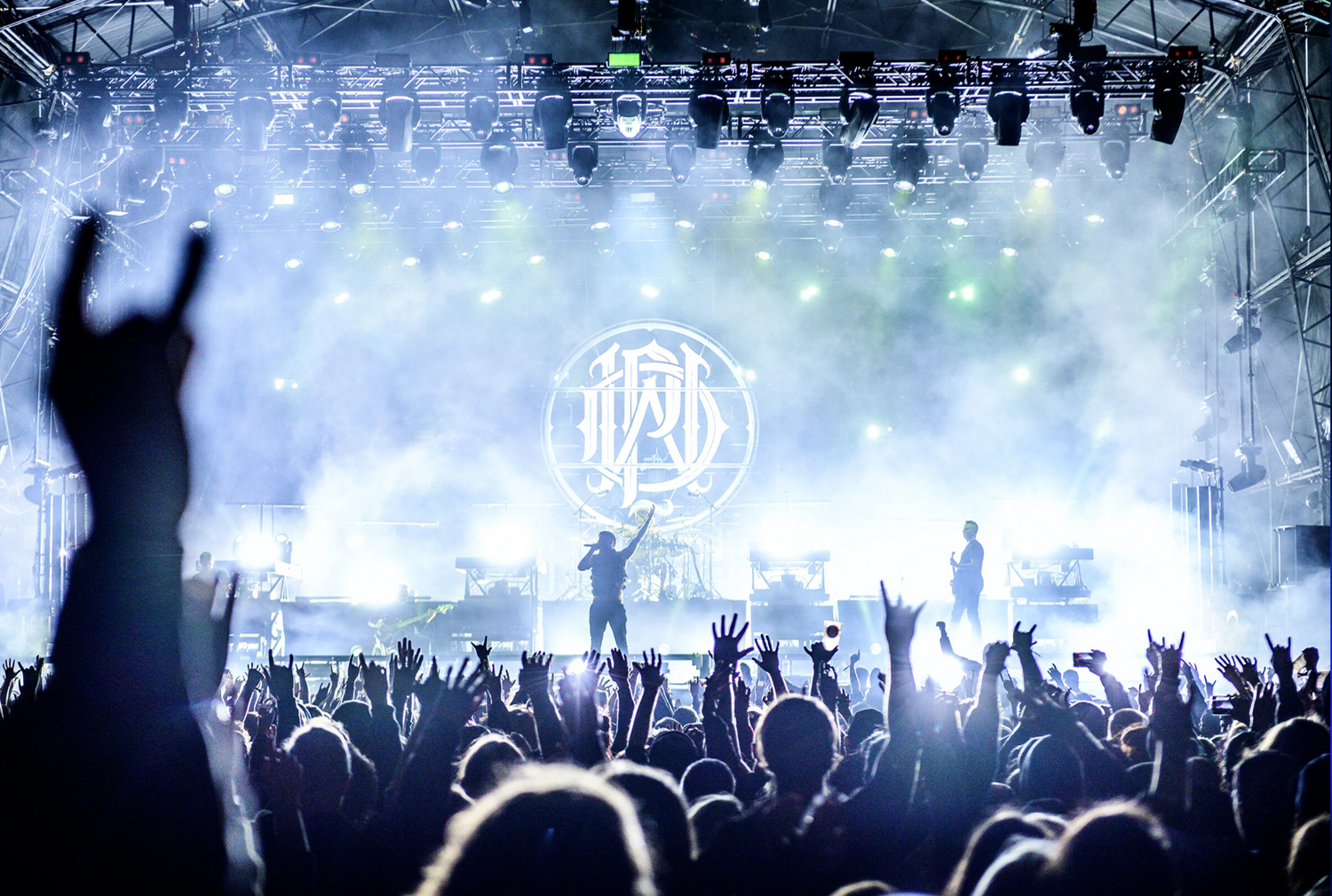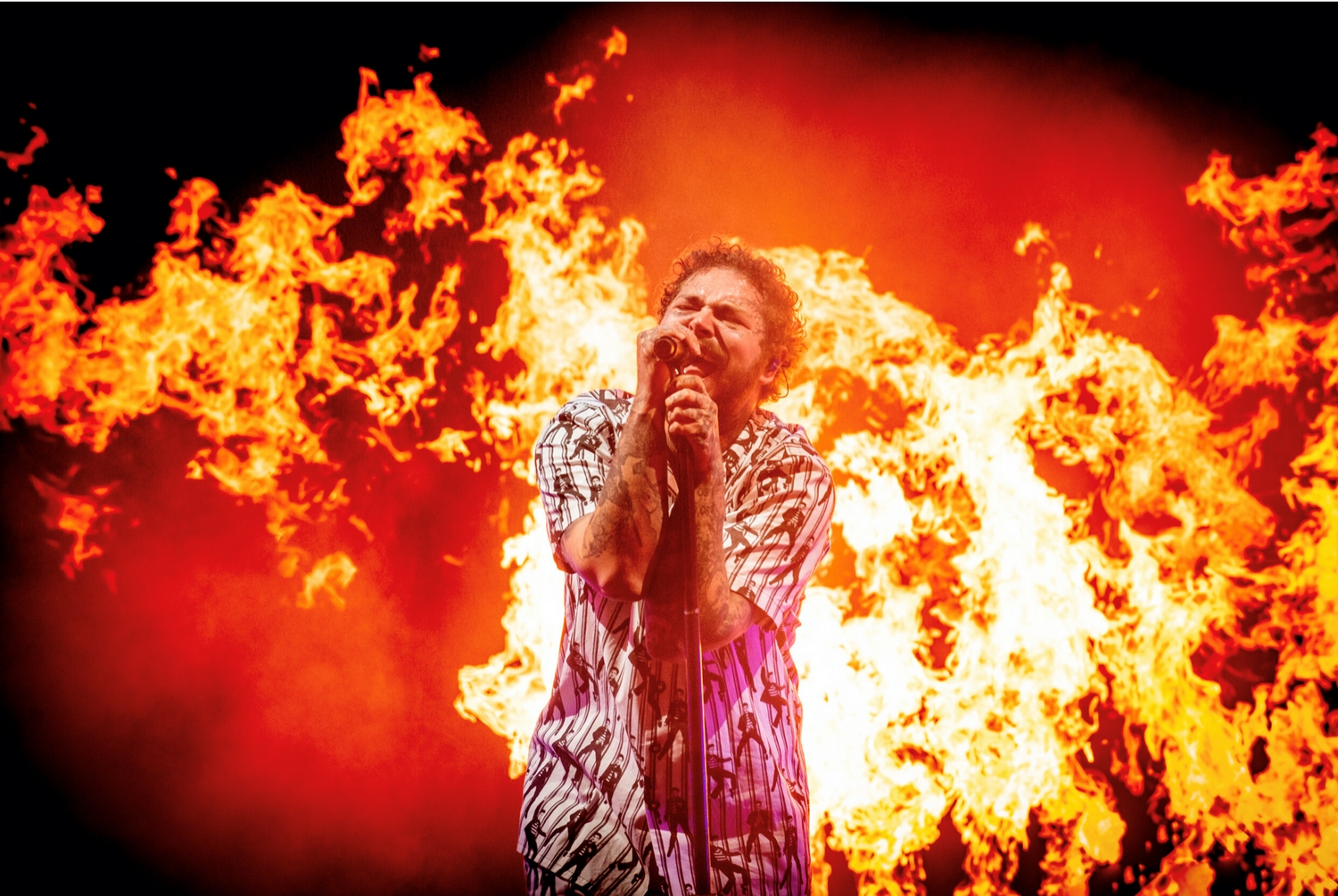 The Editing
Upon returning home it's time for the editing to begin. As I normally want to enhance elements of my images like vibrancy or correct for colour, rather than manipulate them entirely, I almost always do this in Lightroom. After import I'll quickly go through and rate the images I like best, then begin editing them, prioritising the acts the commissioning client wants. Partially the editing of images can be synchronised in the programme if light hasn't changed too drastically during an act's set, but all images will need a unique tweak, and often, almost everything has to be changed between files. Upon export, I'll then use a file transfer service like WeTransfer to deliver my work.
Festivals, despite the excitement of a photo pass to those not shooting, are long and intense days for most photographers. With only 3 songs in the pit and so many acts to cover, it's not unusual to only see the songs an act plays during that time, and not to actually relax and enjoy any of a set properly until perhaps the last act of the night. That's not to say they're not extremely fun, and a unique opportunity to take so many images of an exciting subject matter, but it's not exactly filled with glitz and glam. In terms of building your portfolio though, and getting a lot done in a short time, they're a dream. As a music photographer, festival season is the highlight of my year.
Image credit - Download Festival